Welcome to Family Time Magazine!
---
Our Magazine and Special Needs Guide are now available on-line. Please click on the links (left and right) to enjoy our latest Issue of Family Time Magazine and our Special Needs Guide!
---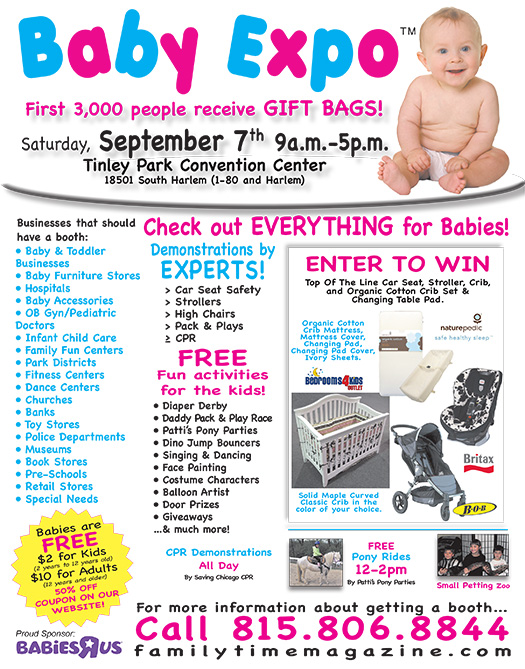 ---
Have you ever wondered what your life's purpose is?
In September 2005 I realized my life's purpose. Once I felt it, I knew there was nothing that could stop me. I had a vision of starting a publication dedicated to Chicagoland families. I wanted it to inspire, help families in need and be a credible resource, something families could turn to for valuable information, support and ideas on how to spend quality time together. With that dream, Family Time Magazine was born to serve the City of Chicago and the south, west and north suburbs.
We are now celebrating our 8th anniversary in print with a readership of more than 100,000, and in December 2012 we launched an online edition. That means our Chicagoland magazine is now available to anyone, anywhere at anytime! Technology continues to change and we are changing right with it so we can be there for you when you need us.
Our website has become an extension of the magazine with more than 75,000 hits per month. It is a valuable resource for families and a wonderful platform for our clients to advertise their products and services. We appreciate the opportunity to continue serving you, our families. We encourage you to share your thoughts and opinions. Thank you for your support!
Caroline O'Connell
Publisher
Expos, Seminars and Information
KIDS EXPO
The Ultimate Chicagoland Family Fun Adventure
The Kids Expo is the biggest Chicagoland kids event ever! Kids Expo is a one of a kind event that takes place in March every year. The Expo provides attendees with all the latest information on Kids and Family Entertainment, Education, Summer Camps, Birthday Parties, Health and Wellness, Vacation Destinations and more. Last years expo had over 150 vendors and 16,000 attendees.
As always, the first 3000 attendees receive a Free Goodie Bag filled with T-shirts, samples, coupons, and free ticket offers. All attendees are encouraged to visit our sweepstakes booth. There is no fee to enter and winners do not need to be present to win exciting prizes like All Terrain Vehicles, Scooters, and Maru Dolls. Once inside the Expo, kids can participate in free activities like climbing rock walls, riding the Ferris wheel , or even making their own music video. Live performances take place on the main stage all day long and free samples are passed out at various booths.
Don't miss Kids Expo 2013 taking place on March 15, 16, 17, 2013 at the Tinley Park Convention Center, 18501 S. Harlem (I-80 and Harlem.)
Please click Here for more information
Baby Expo
The Ultimate Chicagoland event for parents
and expectant moms
Find everything you need at our annual Baby Expo each September. With more than 70 booths, parents can easily find everything they need for their baby. There are many new and innovative products and services available at our Baby Expo that are not yet available in stores.
This Baby Expo serving Chicagoland also offers parents the opportunity to enter their Baby in our Cover Search Contest. Winners will appear on the cover of Family Time Magazine. The Baby Expo features live entertainment as well as free kid friendly activities like pony rides and inflatables for jumping.
This years Expo will be held at at the New Tinley Park Convention Center, 18501 S. Harlem (I-80 and Harlem.) Saturday, Sept. 7th, 9a.m.-5p.m
Advertise with Family time Magazine
Family Time Magazine enjoys a readership of over 200,000 people each month.
All ages enjoy reading the magazine, from children to grandparents. All of our readers are looking for ways to enhance the enjoyment of family life. It's the perfect opportunity for any business offering products and services that cater to the needs of families to get the word out about what they have to offer.
Why Should I become an Expo Exhibitor?
During the course of one day, thousands of people from the Chicagoland area and the surrounding suburbs will stop at your booth to familiarize themselves with the product or service that you are offering. This holds true for any of our Expos. Your business cannot help but increase and prosper with this kind of exposure. All attendees are already interested in your area of specialty. You will have a captive audience all day long and can even have your own raffle. This will help you to generate a mailing list for contacting potential clients after the Expo.
Contact us now for opportunities to expand your business by advertising with Family Time Magazine.