Lakes are a great way to have fun with family outdoors all season long. Swimming, boating, ice skating, ice fishing – you name it, lakes have it! The midwest is full of great bodies of water. Aside from the obvious Lake Michigan, there are so many great lakes throughout the state and nearby borders, public and private, that are perfect for a day, weekend, or extended trip with the family. Got a suggestion for Best of the Midwest? We'd love to hear it! Email your favorite places to editorial@familytimemagazine.com!
(Lake information via Lake Lubbers)
Lake Galena – Galena, IL
www.thegalenaterritory.com
Tucked in a corner of the Northern Region of Illinois, Lake Galena presents one of the finest examples of a well-planned manmade lake. The 6,800-acre Galena Territory contains over 1,500 acres of protected recreational land. The walking and hiking trails travel through wildflowers and woods as do the bridle paths. The natural areas are home to a variety of animals including white tail deer, beavers, coyotes, and fox. In winter, there are plenty of areas available for sledding and cross-country skiing. Ice fishing and ice skating are enjoyed on the lake. Vacation rentals are sometimes available on Lake Galena, usually with a stunning view of the lake. Several private residences can be found with weekly or monthly lease. Bed-and breakfasts are available around Galena as are hotels and inns. The resort and spa have daily and weekly rentals with all the amenities of a high-end villa and is particularly attractive for the golfing family. Real estate is often offered with lake views in Galena Territory. A week here can provide all of the activities everyone in the family desires. So come enjoy the unique surroundings of Galena Lake. One week can easily become a lifetime – or a lifestyle.


Elizabeth Lake – Springfield, IL
www.tlha.ne
Lake Elizabeth or Elizabeth Lake, as it is more commonly known, has been a vacation getaway for over 150 years. Located in the Northern Region of Illinois and the Lake Michigan Region of Wisconsin, Elizabeth Lake is one of a pair of lakes along the Illinois-Wisconsin border that are often referred to as Twin Lakes. The two glacial pothole lakes are separated by a narrow finger of land with a short stretch of waterway connecting them. The twin lakes were named for the twin daughters of one of the earliest settles to the region: Elizabeth and Mary Ineson. In winter, ice fishing and snowmobiling are popular activities. Local clubs maintain groomed trails for snowmobiling and cross-country skiing. Several eating establishments around the lakes soon make visitors feel like 'regulars', as do the local pubs. Less than 15 miles northeast of Twin Lakes, Bong State Recreation Area offers hiking trails, fishing, hunting and interpretive guides. South of Elizabeth Lake, the 26-mile Prairie Trail can be accessed at Richmond, IL. The trail is popular for mountain biking and hiking. Twenty-five miles east, Kenosha sports a greyhound racetrack, Lake Michigan beach, museums, parks and a community college. Downtown Chicago is only 70 miles away, making Elizabeth Lake an idea spot for a weekend getaway.


Fox Lake – Antioch, IL
www.foxlake.org
The Fox Chain O'Lakes is a collection of 15 navigable lakes on the Fox River, each with its own flavor. Called the "Key West of the Midwest," the Chain has been drawing visitors to play in the Chicagoland region of Northern Illinois for over a hundred years. Made up of glacial lakes and impoundments, the Fox Chain O'Lakes is impacted by several dams on the Fox River including the McHenry Dam which was completed in 1907. Known as one of the best fishing lakes in the Fox Chain of Lakes, Lake Marie has an average depth of 14 feet and a maximum depth of 35 feet. Abundant populations of bass, crappie, white bass, pike and walleye all make their home in the lake. Lake Marie has boat ramps on both the northern and eastern shore. At 86 acres, Bluff Lake is smaller than the others. It is known for its shore fishing and exceptional pan fish. Petite Lake is also a popular pan fish lake. There are also abundant populations of perch and northern pike. Along with Catherine Lake and Lake Marie, Petite Lake is popular with families. There is almost no water skiing, and sand bars and beaches make great places to swim and play. The Fox Chain O'Lakes is between Chicago and Milwaukee, about an hour from each with access to all the amenities of cities their size. There are marinas, boat rentals, restaurants and accommodations including waterfront vacation rentals. Small towns dot the area around the Chain, and there is real estate available for sale for anyone wishing to extend their stay.


Evergreen Lake – Bloomington, IL
www.mcleancountyil.gov
One of Central Illinois' best-kept secret lies just north of Bloomington: Evergreen Lake. When the growing city needed additional water supply in 1971, Six Mile Creek was dammed to create new Evergreen Lake. Then, needing even more water storage, the dam was enlarged in 1995. The resulting 900-acre reservoir is crowned by 2200-acre Comlara County Park to provide recreational opportunities for everyone. In the 40 years of its existence, Evergreen Lake has developed into one of the favorite fishing and camping destinations in central Illinois. The fishery has been so successful that record game fish are regularly reeled in. With the Bloomington area home to two major universities and two smaller colleges, beautiful Comlara County Park opened up a wealth of recreational activities for the energetic young adults. For visitors who seek more variety during a week's stay at the campground, nearby Bloomington and Normal hold a wealth of entertainment options. As college towns, there are a number of nightclubs and entertainment venues highly attractive to young adults. The daring can find paintball, indoor rock-climbing facilities and other active sports. The Constitution Trail in Normal is a multi-use trail with over 14 miles of hard surface. The trail is perfect for walking, jogging, rollerblading, biking, cross-country skiing, or strolling. The towns also offer plenty of restaurants, theater events, and cultural activities.


Lake Sara – Effingham, IL
lakesaracampground.com
Lake Sara – a refreshing oasis in central Illinois! What does a community like Effingham Illinois do when they run out of water? They build a reservoir like Lake Sara. Located in the Central Region of Illinois, Effingham County, like much of the Midwestern prairie has limited surface water. In 1949, the local Saint Anthony's Hospital caught fire and burned, partially due to a shortage of water to fight the fire. The resultant loss of 70 lives helped bring about fire codes nationwide. A visit to Lake Sara need not be limited to water-focused activities: the City of Effingham has plenty to keep the visitor busy. Three city parks provide a skate park, including ramps and fun box, picnic areas with pavilion, lighted ball diamonds and tennis courts, playgrounds, gymnasiums, an outdoor swimming complex, a tree walk, a miniature golf course and more. The entire area is a popular antiquing destination and most types of shopping are available in the several malls and national chain stores. The area is well-supplied with restaurants from fast-food to pizza to elegant dining. The annual Sculpture on the Avenues project brings an array of artwork to Downtown Effingham and features some of the Midwest's best known and unknown sculptors. Nearby Teutopolis contains the Monastery Museum, the preserved history of the Franciscan priests who ministered to this German Catholic community founded in 1838. The MY Garage Corvette Museum contains one-of-a-kind and vintage Corvettes and thousands of pieces of Corvette history and memorabilia. Anyone with a farm background or interest in steam-powered machinery is sure to enjoy Ben Winter's Steam Engine Museum in nearby Altamont. Those with an interest in early American history will enjoy a visit to the Vandalia State House, 40 miles away in Vandalia. Lake Sara is convenient for a Midwestern vacation and a great place to locate a summer cottage. Enjoy the family atmosphere at Lake Sara – Effingham will welcome you!


Lake Geneva – Lake Geneva, WI
www.lakegenevawi.com
A laid-back atmosphere mixed with amazing activities make astoundingly beautiful Lake Geneva one of the most perfect relaxation and recreation destinations in Wisconsin. Lake Geneva is located in southeastern Wisconsin's Walworth County within easy driving distance of Milwaukee, Madison, and Chicago. The lake is often referred to as the "Newport of the West" because it has been a popular resort community for more than 150 years. The quiet winters are also filled with fun and excitement. The city of Lake Geneva is host to the United States Nationals Snow Sculpting Competition. The lake is also a popular ski spot with close to 20 ski trails to choose from. Other activity choices include horseback riding, ice skating, ice boating, sleigh rides and even hayrides. So, take a long, deep breath as you enter this charming, year-round resort town, home of one of the most beautiful lakes in Wisconsin. It continues to delight visitors and residents with its magnificence while offering an unforgettably relaxing yet fun-filled atmosphere with rolling hills and spectacularly sparkling clear water. It truly is an exceptional treasure waiting to be explored and enjoyed.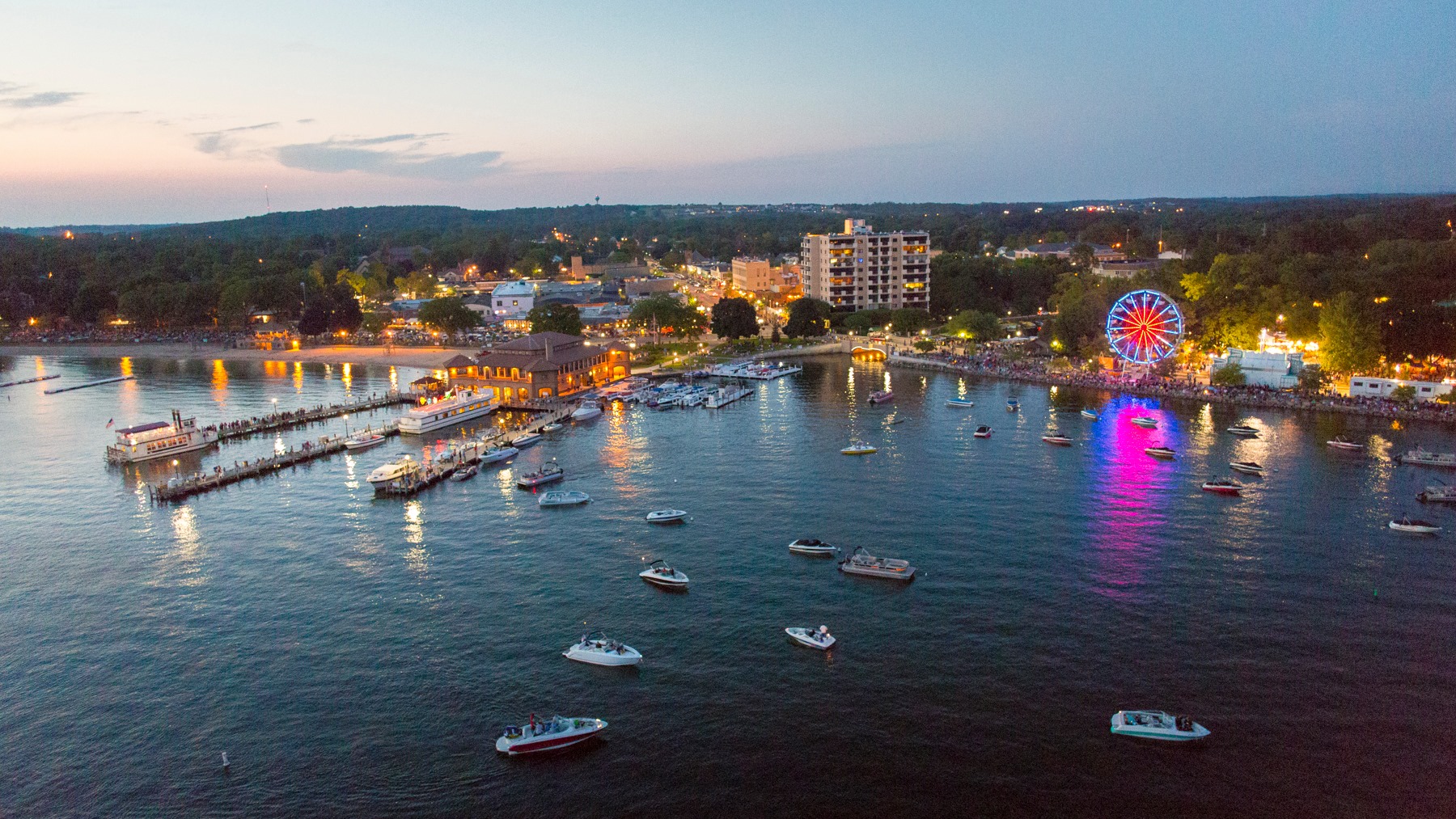 Carlyle Lake – Carlyle, IL
www.playandstaycarlyle.com
Carlyle Lake, located in south-central Illinois, holds dual titles as largest artificial lake and largest body of water wholly contained within the state. Located about 50 miles east of St. Louis, Carlyle Lake was created by the Army Corps of Engineers between 1958 and 1967. Though its 26,000 acre surface still provides flood control for the surrounding region, it has developed as a major recreational hub for those who love boating, fishing, and other outdoor activities. Carlyle Lake is an angler's delight, offering over 30 species, including bass, bluegill, catfish, crappie, sauger, and walleye. In fact, the lake is a favorite of anglers due to its impressive 3,250 pounds per water acre, one of the most productive in Illinois. Renting a boat at the lake is easy, so grab your pole and bait box and ask any of the friendly local fishermen where the fishing is best. You're sure to enjoy a beautiful day on the lake as you drift along, waiting to reel in a prize catch. When you're finished catching your next meal, head out onto the waters of Carlyle Lake, known by sailors as one of the best and most challenging lakes on which to sail. Indeed, the winds are good at the reservoir: in 1994, the U.S. Olympic Festival Sailing Competition was held here, and exciting races occurred almost every weekend during the summer. Though that summer has come and gone, sailboat enthusiasts flock to the lake every year for some time on the water. For those who simply want a vacation, Carlyle Lake fits the bill: camping areas, golf courses, rental boats, swimming areas, and delicious restaurants dot the shores, tempting you to try out a bit of everything. Two state parks — Eldon Hazlet State Park and South Shore State Park — share the shoreline, providing boat access as well as picnic areas, green space, and ideal spots to lay your beach towel down as you soak up some sun and enjoy the cool waters on a hot summer day.


Cedar Lake – Carbondale, IL
explorecarbondale.com
Cedar Lake is located at the edge of the Shawnee National Forest in southern Illinois. This 1,750-acre reservoir was created by the City of Carbondale in 1974 by building a dam to impound Cedar Creek, a tributary of the Big Muddy River. Although the primary purpose of Cedar Lake is to provide water to the residents of Carbondale, this scenic reservoir provides recreational opportunities to visitors beyond Jackson County. Because the Shawnee National Forest borders the southern portion of Cedar Lake, about half of its 30-mile shoreline is owned by the U.S. Forest Service. Hardwood forests, cedar trees, and sandstone bluffs line the shoreline. Cedar Lake is a popular destination for fishing, swimming, picnicking, hiking, and horseback riding. Paved roads and two boat launches offer easy access to this reservoir which has a 10 horsepower limit. Anglers reel in catches of largemouth bass, channel catfish, crappie, striped bass, and bluegill. The best fishing months for crappie and bass are March and April. Peak channel catfish months are June through August. Although there are no developed camping sites at Cedar Lake, the Shawnee National Forest offers camping experiences ranging from primitive camping to modern campsites equipped with electric and showers. All campsites and picnic areas are on a first-come, first-serve basis with no reservations accepted. Developed campgrounds are usually open from April 1 through December 15. The Shawnee National Forest offers 300 miles of marked trails through the hills and valleys of the Shawnee Hills and the Illinois Ozarks. 30 miles are designated for hikers only, and each trail is rated for level of difficulty. Trails range from leisurely strolls to observation points to difficult hikes in excess of 9 miles. Horse riding enthusiasts will enjoy miles of equestrian trails. Cedar Lake welcomes families and anglers with plenty of recreational offerings on the water and off the water in the Shawnee National Forest. Make sure to save some time to venture a few miles north to Carbondale for a tour of Southern Illinois University.


Bluff Lake – Lake Bluff, IL
www.lakebluff.org
Bluff Lake is a part of the Fox Chain O'Lakes in northeastern Illinois' Chicagoland tourism region, just 40 miles northwest of Chicago. This chain of glacial lakes is comprised of nine major lakes that are connected to many smaller bodies of water by a number of artificial channels and the Fox River. Water level control on the entire Fox River Chain O'Lakes is controlled by a series of dams on the Fox River. The dams, under the control of the Illinois Division of Water Resources, maintain recreational water levels and control flooding. Four major trails can be explored around Bluff Lake: Nature's Way, which allows a beautiful 2.25-mile escape into the woods; Pike Marsh North, a flat, quarter-mile trail designed for the physically disabled; an eight-mile equestrian trek with three loops; and a six-mile trail designed specifically for biking and hiking. Wildlife watching is more often successful than not, and visitors are likely to observe white-tailed deer, rabbit, mink, opossum, gopher, fox, badger, and groundhogs. Approximately 200 bird species have been spotted throughout the area , which is overrun with wildflowers during the spring, summer and fall. Bluff Lake is surrounded with exciting things to see and do, with possible day trips including the Nippersink Forest Preserve, the Duck Farm Forest Preserve, and the Department of Natural Resources Moraine Hills State Park. From its natural preserves to its water sports, lovers of the great outdoors will be delighted with everything that Bluff Lake and the Fox Chain has to offer.